Check out the preview, below!   Cheryl and I  can hardly wait for the full episode!!
Alan
Belegenza Natural Hair Care Brand Partners with Highly Anticipated Meatheads on iTunes
Belegenza Natural Hair Care selected as Brand Partners for Original Digital Pilot, presenting an All-Star Vine.co cast, Robby Ayala, Eric Dunn, Manon Mathews, Chase Hauck and Hannah Pilkes on iTunes. IFU's Meatheads debuts Vine fans' favorite stars in a highly anticipated comedy.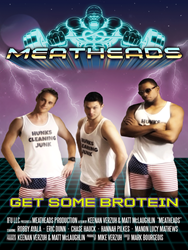 Like the perfect workout and recovery, this debut is the start of something huge and we're proud to be part of it! We're sure IFU's Meatheads growth and success is just getting started. –Alan G Eschenburg, Belegenza Creative Director
Los Angeles, CA (PRWEB) March 25, 2015
Meatheads' 16.5 million fans have reason to rejoice because on Sunday, March 29th, IFU will debut Vine fans' favorite stars in a highly anticipated original scripted comedy. The show centers on a group of young personal trainers striving to make it and the gym they all work at, which turns out to be a hot-zone for locker-room antics and misadventures. In the pilot, Drew (Robby Ayala) and Chase (Chase Hauck) discover that Eric/Jerome (Eric Dunn) have been poaching their clients (Vine stars – Jason Nash, Oscar Guerra, Omar Ghonim, Richard Morrow, Michael Persad, and Grammy® Recording Artist, Catie Waters) with his "Urban" workout. The trainers, who are in desperate need of new clients and money, decide to become janitors at the gym to earn extra money with the assistance of Manon (Manon Mathews) and Hannah (Hannah Pilkes), but it looks like the team bit off more than they can chew.
The pilot which premieres on iTunes andhttp://www.Meatheads.tv, marks the first Vine stars to lead a cast and breakthrough into their own original series on digital television. The show will be a half-hour series (with a full season order) and each episode will cost $2.99. " Fans are chomping at the bit to see Jerome in the show," says Actor, Eric Dunn.
In addition to IFU's executive producer, Michael Verzuh, the show has industry veterans Keenan Verzuh, Matt McLaughlin, and Cindy Castro DiRusso (Casting Producer for "Kitchen Nightmares," "Best New Restaurant" and "Cabin Fever") serving as Producers on the show as well as Oscars® winner, Reinhart 'Rayteam' Peschke ("JFK," "Born on the Fourth of July") as Director of Photography.
The show has already received support from brand partners including heavyweights WEEV, a hot, social media, mobile application created by actor/directorStephen Moyer (HBO's "True Blood"), DoSomething.org – the largest organization for young people and social change, which will be featuring their "Pineapple Push-ups" campaign and Belegenza Natural Hair Care – the premiere hair-care product to Hollywood celebrities.
IFU has captivated the interest of 16.5 million social media fans worldwide with their first production Meatheads. For up-to-the-minute press information and photographs please visit http://www.Meatheads.tv and follow Facebook and Twitter for the breaking news updates, behind-the-scenes information and photos.
About Belegenza Natural Hair Care:
A family-owned, luxury hair care product line. Satisfying the needs of hair styling perfection with silicone-free natural ingredients, Belegenza has become the product of choice by elite customers including celebrities and their Hollywood hair & makeup teams. A US based company, Belegenza delivers unique solutions for those who demand the best and require natural and gluten-free hair products.