Belegenza Selected to Sponsor Second Hollywood Show This Coming April
Acting hosts to the stars, Belegenza has proven to be a valuable asset to the ongoing Hollywood Show, where you can meet and greet with your favorite celebrities.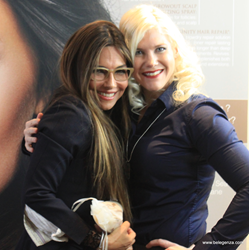 "Hollywood is amazing. At first, no one talks to you, and all of a sudden we're hanging out with legends and stars and getting in their hair! It's a dream come true! We are super lucky!" -Alan G Eschenburg
(PRWEB) February 06, 2015
The Hollywood Show is a classic and ongoing tradition where celebrities give back to their adoring fans. Ranging from television personalities, actors and actresses as well as thespians, there is a wide variety of celebrities to meet.
Belegenza Extraordinary Hair Care offers a relaxing atmosphere where the stars can freshen up and be pampered by the Belegenza team. They are introduced to the best products and taken care of in a professional and helpful manner. Selected by The Hollywood Show as the hair care and styling product of choice, their attendance has been requested at the next show, this April 24th – 26th. Stars range from Grace Lee Whitney, Kristy McNichol, Dick Gautier, Burt Ward and more.
Alan Eschenburg and Cheryl Honc, a brother and sister team are so honored to be welcomed into The Hollywood Show as sponsors. Starting with an idea in the salon, the concept of making silicone-free food grade hair care products has continued to grow and is now respected in the hair and makeup departments of the finest studios in Hollywood.
About Belegenza
Belegenza is a legendary company that makes it happen: luxury, safety and beauty. The best in hair conditioner treatments, faster hair growth and safest products for hair color.
Contact
Follow us on: